Here at Claritas, we like to shine our spotlight on the brilliant staff we have, exploring their roles, their previous experience and who they are as a person – including their likes and dislikes on everything from food to travel!
Our latest spotlight features our 3rd Line Technical Consultant, John Shaw.
We talk here to John about his role at Claritas, what advice he would give to individuals with similar career aspirations and what he gets up to when he's not watching motorsports.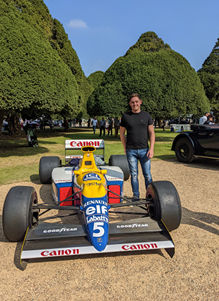 Hi John, tell us a little bit about your role at Claritas
I work in the projects department delivering customer projects. I work closely with the customer during the planning and building phase which is great for ensuring the project is delivered as expected and on time.
What prior experience do you have?
My experience within the I.T. industry spans 13 years. I started in 1st line support and since then have been working my way through the ranks.
What would a normal day consist of?
Generally speaking, no days are the same given the nature of working on something different week on week. I can be building and deploying a large-scale infrastructure environment one week and the next, deploying an application on a VDI platform. I enjoy the variety that comes with my job.
What is the thing you love most about your job?
Having freedom and variety in my role to achieve projects and keep the working environment interesting.
Do you have any advice to give to others looking at a similar career?
Experience is important and making mistakes will happen. The key is learning from those mistakes and not repeating them, as this can sometimes have disastrous effects for customers and users.
What do you enjoy doing when not at work?
I enjoy being in the outdoors, so will be out walking, mountain biking or riding a motorbike. I do enjoy Netflix binges on an evening, however, and play video games from time to time and watching motorsports.
Thanks for talking to us, John! It's been great getting to know more about you and your role here at Claritas and if we now know where to come if we're struggling to find something to watch on Netflix!