Careers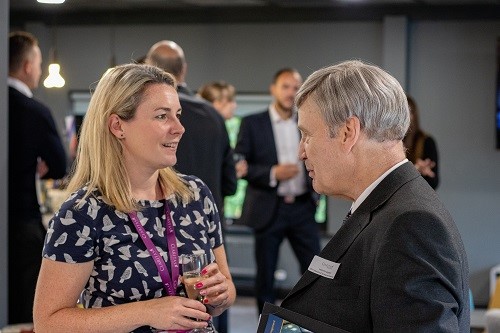 At Claritas, you will find a wealth of opportunities to craft the career you've always envisioned. We welcome individuals from diverse backgrounds, equipped with varied skills and experiences, and fuelled by a drive to help define innovative solutions to continually excel and exceed expectations.
Joining the Claritas team means embracing motivation, curiosity, and creativity while growing alongside us as we make an indelible difference to the tech industry and our customers.
As the technology world tackles 21st-century challenges, Claritas embarks on a relentless journey of progress, always seeking to surpass boundaries and refusing to settle for good enough.  You will be part of a team that is making a difference in all that we do.
That's why we seek trailblazers who challenge perceptions, explore uncharted ideas, challenge conventional wisdom, and shape the future.  Choosing Claritas for your career is an investment in a future of exciting possibilities.
Let us tell you more about our teams
We are considered by many of our customers as an extension of their IT staff. From secure data migration support or cloud security to direct connections to public and private data centres across the UK. The work is complex, the scale is enormous, and it's incredibly rewarding because it's such an essential part of people's working lives, with no day ever the same!
Areas of work include; Connectivity, Site Reliability Engineering, Systems Engineering, Performance Engineering, Server-Side Software Engineering, Security Engineering, Data Centre Operations, Network Engineering, Back-End Engineering, Database and Data Engineering.
Also, know that you will be supporting hundreds of users daily.
Cloud and Infrastructure
Be prepared to jump right in as you'll be part of the invisible but indispensable thinking behind the next generation of software & systems as well as supporting them. Know that when you join the team that designs, develops and deploys high-performance systems that handle hundreds of queries every day that you are changing the world in some incredible way. You also work alongside a team of dedicated support engineers who support these systems daily, ensuring minimum downtime and reliability is a constant.
DevOps is the convergence of development and operations and is driving the digital transformation of future-minded organisations across a range of sectors, helping them develop world-class IT infrastructure while simultaneously developing more agile, dynamic approaches to working that suit the evolving digital landscape. Continuous Application Improvement hinges on DevOp's ability to find the balance between automation and analysis. With automated alerts and notifications, much of day-to-day maintenance and management becomes a truly hands-off process. This leaves time to focus on the more complex issues whether those be integration testing, deployment tracking, or preventing server crashes.
Areas of work include: Quality Assurance Engineering, Integration Engineering, Software Developer in Test Engineering, Applications Engineering, Software Compatibility Engineering, Automation Engineering and Tools Development.
DevOps & Support
As the world is constantly evolving we are also keen to start building a new team of Apps Devs - the challenge with building any app is more than building an app or feature, you'll be responsible for people's experience.
Do you enjoy writing code and solving problems? Are you constantly using your brain, thinking about things others haven't thought of, trying to answer previously unanswered questions – or researching those that have been answered. Are you motivated by learning new things and stretching yourself? In the real world, you have to find the solution that works best against all sorts of constraints. There's still so much to explore in areas such as machine learning and AI, why not join a team that is pushing the boundaries of 'what next?'.
Areas of work include Application Development, API Design, User Interface Design, Networking, Application Protocols, Framework Development, Front-end Development, QA Testers and Performance Engineering.
App Development & Data Science
Every team at Claritas is collaborative, but as part of this group, you're the hub of cross-functional partnering. Take ownership of projects by overseeing every aspect, from start to finish – the project team ensure milestones and agreed deliverables are met – on time and on budget! You'll guide the work as it's refined by clients, colleagues and other teams.
Areas of work include Technical Project Management, Metrics and Programme Management.
Engineering Project Management
In pre-sales and account management you will be working with customers to find exactly what challenges they are facing and what technology exists that will help them out. No two days will be the same, as you will have a wide range of responsibilities on a day-to-day basis. And it's all with one goal in mind—to connect our customers with the right solutions. Typically, you will have experience of designing technology packages for clients, discussing the benefits of different products, keeping up with sales reports and marketing data as well as writing contracts and invoices once a sale has landed.
Account management team also have responsibilities to continue to develop strong relationships with customers, connecting and managing key stakeholders as well as answering any client queries and identifying new opportunities among our existing customers.
Areas of work include Technical Pre-Sales, Business Development, Metrics, Client Service and Account Management.
Pre-sales & Account Management
What to know more about us?  Why not watch our Company Intro video…
Equal Opportunity
Claritas is proud to be an equal-opportunity workplace and employer. We are committed to equal employment opportunity regardless of race, colour, ancestry, religion, sex, national origin, sexual orientation, age, citizenship, marital status, disability, gender identity or Veteran status.
Current Vacancies
We need people who ask questions, who want to explore new ideas and challenge perceptions. Our team is a collection of people in all shapes and sizes who want to know what the future holds and how they can be a part of it.  We'll help you shape the career you want and shine. Already keen? Discover your next role with Claritas Solutions!
To view current Vacancies – click here
If you're not ready for a new role, you can join our talent network. We'll keep you up-to-date with our latest career opportunities and you'll be the first to know when the perfect role comes up. Email hr@claritas-solutions.com with a current CV to be retained on our internal system for when that right job does come up!
One thing we are very passionate about is Security and Privacy.  We safeguard our customers' data, as well as our own ensuring it is retained securely in the UK, by developing secure foundations and systems that prevent and detect threats to our products, services and infrastructure.