This month our Spotlight is on 3rd line & Presales Technical Consultant, Ben Dunkley, who has been with Claritas Solutions for almost eight years.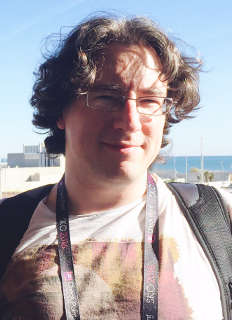 Tell us about your role at Claritas
I predominantly specialise in network and security devices, (i.e. switches, routers, load balancers/ADCs and firewalls). Our team handles the architecture, design and specification of proposals for new projects, and their implementation, and also escalation of support issues from the 1st and 2nd line teams.
What training did you have to have to do your role?
Various vendor specific training programs, (e.g. Check Point, Cisco), and accumulated on-the-job experience.
What would a normal day consist of?
There isn't really a typical day, the things we do are a bit too varied for that. I'm usually out on a customer site maybe up to a dozen days a month, depending on what projects or work is ongoing. When in the office I'm either dealing with presales work, or escalated support issues, or picking up background project tasks.
What sort of issues do you deal with on a daily basis?
There isn't really any consistent pattern, but recently we've been handling the rollout of a large infrastructure project, and have been doing some Check Point Security Check Ups.
Why is your role so important to Claritas' customers?
Not only is 3rd Line Support responsible for implementing IT solutions but we are also on call to respond to technical issues our customers may have. And for some weird reason customers seem to like me!
What's your favourite part of your job?
It's a great opportunity to get to play with new, and sometimes expensive, bits of kit. The variety of kit that comes across the desk often requires a little creative thinking to adapt to the job at hand!
Tell us a couple of things about your life outside Claritas?
At home I can often be found either reading science fiction, or playing computer games and I even sometimes get a little bit adventurous in the kitchen.
What's your idea of a good holiday?
I've been snowboarding for something like 15 years or so, and tend to take to the slopes around January/February with a fairly variable group of 4-12 folks.
In the summer I prefer active holidays rather than sleeping on the beach all day – windsurfing and taking to the water in dinghies and catamarans have been involved in fairly recent holidays.