Here at Claritas, we like to shine our spotlight on the excellent staff we have, exploring their roles, their previous experience and who they are as a person – including their likes and dislikes on everything from food to travel!
Our latest spotlight features our Finance Director, Kirsty Sutton.
We talk to Kirsty about her role at Claritas, her team's focus for the year and what 3 things she couldn't live without.
Tell us about your role at Claritas
My role at Claritas is to run and manage the Finance team which includes the day-to-day operations of the company. As part of my role, I also oversee customer, supplier, and employee relations, managing cash flow, accounts preparation and attending to a large proportion of the legal and compliance side of running a business.
How long have you been at Claritas?
Next year I will be marking 10 years at Claritas. I joined the company in September 2013 and haven't looked back since.
What prior experience do you have?
I held a very similar role as Finance Director at POSTcti for 8.5 years before it was bought by InterCall UK. Prior to that, I trained and worked in practice at HW Leeds as an audit senior (Chartered Accountant).
What's the team's focus this year?
This year we are focused on business growth, both in turnover and employee heads. This is a fantastic challenge to have as the company is building on the good customer relations it currently has and establishing new supplier relationships.
What would a normal day consist of?
There is no such thing as a normal day for me, which is why I enjoy the job so much. Over a year there are VAT returns, payroll, management accounts, audits, payment runs etc that all need to be done in a timely manner.
Why is your role so important to Claritas' customers?
My team keep the wheels turning in the background, ensuring the billing and customer service elements working. We tend to get pulled into all directions because we're adaptable to the needs of our customers. By reinforcing the can-do attitude of Claritas, we bring customer service and satisfaction to the forefront of our work.
What's your favourite part of your job?
I have a fantastic team. The people that I work with are the best part of my job. There is a great sense of comradery which I've seen, especially over the last couple of years with the challenges of working at home and the pandemic. But the team have all risen to the challenges and surpassed any expectations I had. I'm always very proud of the good work that they do and the way the company is run so smoothly.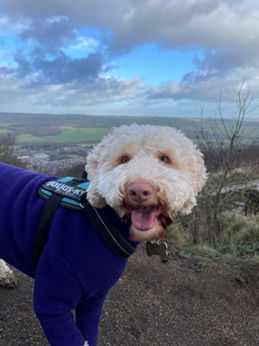 What do you do on those days you're not in the office?
As the mum of two (almost) teenage girls, I'm a taxi service for them mainly! I enjoy time with them for family days and socialising with friends and family. We also have a very lively three-year-old cockapoo, Charlie, who keeps us busy with walks at the weekend.
What 3 things could you not live without?
Chocolate, friends and family holidays (hopefully this year and pandemic allowing!)
Thanks for talking to us, Kirsty! It's been great getting to know more about you and your role here at Claritas and we know where to come if we need some pawsome dog pics!