In the past six months our Support team has grown by around 40%, meaning a handful of fresh faces have joined the Claritas team.
Today we introduce you to one of them, Paul Williamson our Service Desk Manager. Learn about Paul's new role at Claritas as well as his career goals.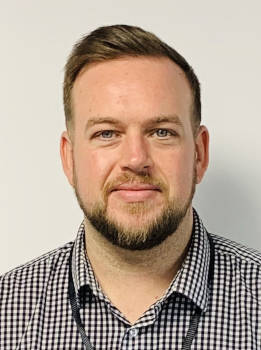 Name and job title
Paul Williamson – Service Desk Manager
Tell us about your role at Claritas
Putting it simply, I manage the Support function at Claritas by looking after the 1st and 2nd line Technical Support teams, however; there's a lot more to the role than it may appear.
Ultimately the Technical Support teams are here to support our customers with any issues or requests they may have relating to the services Claritas provide them. We also support the internal users at Claritas. I'm relatively new to Claritas but it's my job to make sure we're not simply a team of individuals fixing issues and answering questions, but that we go about our work professionally with excellent customer service at the core of everything we do.
Where were you prior to Claritas?
I was at another Managed I.T. Service Provider for 11 years, managing their Service Desk and Incident Management functions. Prior to that I was working on a Service Desk supporting online products and applications. Overall I've been working in Support environments for nearly 17 years now although I'd still consider myself a young-ish person….I wish!
What does your normal working day at Claritas consist of?
It's still early days for me at the moment so I'm currently spending my time asking a lot of questions and managing the resources of the team so we can fulfil business and customer needs. I'm also looking at implementing some key initiatives for the team and learning as much as I can about the solutions we provide. Every day is different so far which is good.
What is the thing you enjoy most about your job?
At the end of the day we all want job satisfaction in our roles. For me, I gain that from 2 areas; first, providing the team with the support and structure they need to perform their roles, second, and what should follow on from the first point if I'm doing my job right, is ensuring my teams deliver excellent service to our customers.
There are some great individuals here and they already do a very good job and hopefully I can help us enhance and build on what we do as the business grows. Everyone has been very welcoming at Claritas and I've enjoyed my first few weeks in the business. There's a very good culture within the office which makes it an enjoyable place to work.
What are your career goals?
I've been managing teams now for a long time and it's something I enjoy and which I believe plays to my personal attributes. I would like to keep moving up this path as I can't see me going back to my technical days. The next obvious step would be a Director level role.
Do you have any advice to give to others looking at a similar career?
One thing I've always said is that confidence plays a massive part in managing teams. As you step up through the management ladder one thing you notice is that you have to make a lot more decisions yourself and you can't rely on others to do that for you so having confidence in your decision making is very important. I'd also say that it's very important you have the right personal skills. This covers a lot of different things, such as how you communicate with the team / customers, how well organised you are, listening to others, dealing with every situation as fairly as possible, being process orientated and recognising good work. If you can't connect with your teams they will not do what you expect or ask of them.
Last thing to say would be that I had to sacrifice my technical development some time ago now when I moved into management. Don't get me wrong, it's still important I understand what the teams do and that I have sufficient knowledge of our products and services, but to move from a technical role to a management one can require this sacrifice as your priority becomes customers, the team and the service they're providing. You can't do that if you're also doing the technical work yourself in most cases.
What do you enjoy doing when not at work?
My main hobby is golf. I know it has this stereotypical view of being an old man's game, but it really isn't. I've been playing for about 10 years now, although you wouldn't think that if you saw some of the shots I hit!
I will be out on the course most Saturday mornings as long as the weather is OK. I've recently purchased a new house so I'm actually spending more time on DIY than I am golf at the moment and I can't see this letting up anytime soon. I'm sure I can find time for both on my weekends.
Watch out for a second post around additions to our Support Team, where we speak with more new members of the team.