Welcome to our new blog – Claritas Spotlight. Every month we'll be putting a different employee under the 'spotlight' and showcasing a bit about them and what they do for Claritas Solutions.
We hope to give you an insight into our business and great people behind Claritas' success.
This month is the turn of 1st Line Technical Consultant, Shaun Greatbatch. Shaun has been with Claritas for 18 months and here he tells us a bit about himself and his role at Claritas Solutions.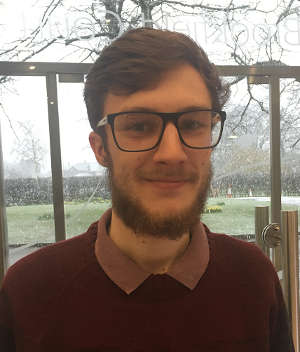 Tell us about your role at Claritas
My role is 1st line IT support for the company. Myself and Adam Burgess deal with all initial inbound communications to the company in regards to technical support for both clients and also Claritas employees.
This involves logging all support tickets we receive via email and telephone within an hour of receiving them.
Once a ticket has been logged we will do some initial investigations into the issue and if this is something we have the ability, skills and tools to fix it will be fixed with us at 1st line.
Anything that is out of our remit or expertise is discussed with members of 2nd and 3rd line and a ticket assigned to the most appropriate engineer to investigate further.
What training did you have to have to do your role?
When I left school I did an apprenticeship in IT where I acquired a great many qualifications in networking and operating system fundamentals such as Windows Server 2008/2012 and Windows 7/8.
I also had some initial training when I started at Claritas on our call logging system and other in house systems we use.
The rest of my training and knowledge has come from working closely with other 1st, 2nd and 3rd line technicians as this is my preferred learning style. If there was anything I was unsure about there was always someone willing to sit down and work through it with me and help teach me what I didn't understand.
What would a normal day consist of?
First thing on a morning I tend to check through the support folder and sort through all the emails that have come through overnight. Most of these emails are automated messages alerting us to the status of backup jobs that have run overnight for certain clients and in some cases automated emails from our monitoring system, Nagios, for outages through the night. Once these emails have been checked I move onto the emails from clients, this normally entails logging new calls and updating support tickets.
I normally spend the afternoons updating and working on my own tickets and also do the daily monitoring for one of our key accounts where I have to log into their servers and build a report based on Disk, RAM and CPU usage on the systems.
As well as all of this, myself and Adam are the first port of call for any technical issues within our company so there's a lot of configuration stuff such as setting up new starters' email and Lync accounts, as well as setting up and configuring laptops, phones and PC's for new users.
What sort of issues do you deal with on a daily basis?
Some examples of the type of problem I've been dealing with this week are a client was having some compatibility issues with their version of Internet Explorer on some websites. Another client experienced an outage on their primary and backup lines over night, with this one I had to make initial contact with the supplier and diagnose and troubleshoot the issue with them to resolve the issue.
We have also had two different issues with dropped connections between clients' sites. We conduct technical investigations and liaise with the supplier to ensure the issue is resolved as quickly as possible with as little impact on the client as possible.
Why is your role so important to Claritas' customers?
My role is important to Claritas and its customers as we are the first port of call for all support queries. All tickets and helpdesk calls and emails come through 1st line and we are then in charge of making sure tickets are with correct departments and engineers to ensure a quick resolution.
All updates via email from clients in regards to existing tickets are done by us, this ensures that 2nd and 3rd line engineers actively working on tickets don't have to break off and search through emails to find an update on their ticket.
What's your favourite part of your job?
The favourite part of my job is the environment we work in and the amazing people that work here. I love how closely everyone works together and how well we manage to communicate not just in our own teams but as a company as a whole. I think it makes work a lot more enjoyable.
Tell us a couple of quirky facts about yourself?
I have a zombie survival kit… in my car… and my partner's car…and my parents' house… and my house… all of them contain the exact same things just to ensure WHEN it happens I am prepared! The kit includes: a hammock, tarpaulin, a length of rope, first aid kit, 20 days' worth of ration packs, a handheld HAM Radio, a compass, lighters and lighter fluid, waterproofs!
I love camping in the rain!
Cheese is basically my staple diet!
Finally, if you were stranded on a desert island what 3 things would you take with you?
I'm really glad you asked this question. With me being a scout leader survival on a desert island is always at the forefront of my mind!
I would take:
Rope (crafting + basic survival)
A mirror (to signal for help)
A knife (crafting + basic survival)