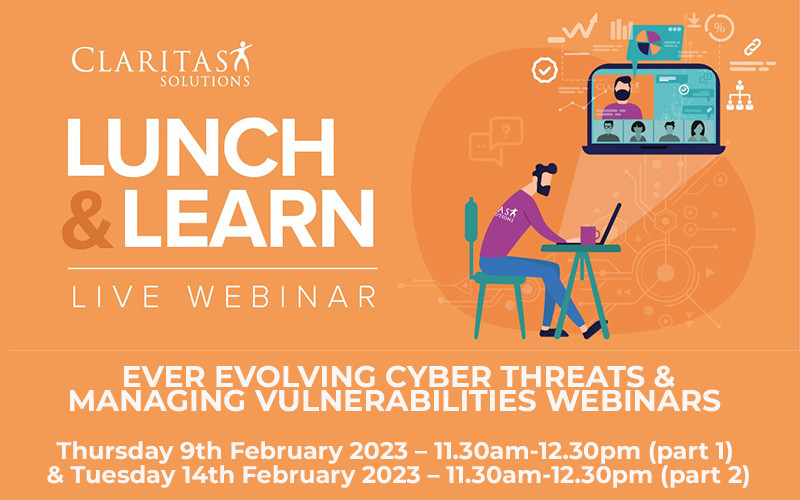 Summary
In this session we will cover and discuss:
Staying ahead of attacker methodologies and techniques even as they continue to become more sophisticated
New types of attacker activities, including patterns, spikes, and outliers as well as increasing vulnerabilities like MFA fatigue, push notifications no longer for MFAs, protecting APIs, etc.
Ensuring Cyber Essentials understanding and best practice being consistent including the increasing number of remote workers now in the workforce
How to build cyber-threat mitigation skills across the workforce
Ongoing threats – as cybercriminals shift their tactics to bypass existing systems and take advantage of humans
Compliance and the regulations you need to ensure you meet to avoid costly consequences.
Watch the recording here Part One & Part Two
Ever Evolving Cyber Threats & Managing Vulnerabilities (Part 1 & 2)
In this webinar by Claritas Solutions & presented by James Rentoul from Node4, we take a look at how Cyber vulnerabilities are a headache and risk for businesses (and managers).
39% of UK businesses identified a cyber-attack in 2022 (gov.uk), the most common threat vector was phishing attempts (83%). Of the 39%, around one in five (21%) identified a more sophisticated attack type such as a denial of service, malware, or ransomware attack. It can often take months to remediate a vulnerability.
As a result, decision-making around vulnerability management is difficult and stressful. It is extremely hard to get it right. No wonder CTOs and other cyber security professionals struggle with it and are therefore not confident that their businesses will be secure from cyber threats and critical vulnerabilities. To improve your vulnerability management practice, we invite you to join our upcoming webinars, focusing on Internal and then External threats and putting best practice in place – Ever Evolving Cyber Threats & Managing Vulnerabilities Webinars (Part 1 & 2).
We will discuss the approaches and techniques that boardroom, c-suite, IT managers and security professionals are becoming increasingly aware of the business risks posed by cyber-attacks and how you can deploy to patch vulnerabilities faster and with greater confidence. Establishing a regime of automatic checks and monitoring so that even the smallest aspects of your eco-system are protected. In this 2-part webinar series, we cover all the aspects you need to factor in from new attacker techniques, trends across attacker groups, and extended detection and response to these.