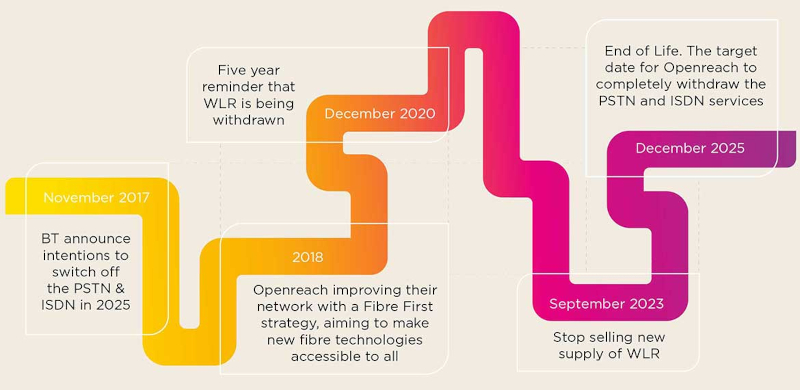 Summary
In 2015, BT announced the closure of the traditional telephony network which powers ISDN and PSTN communications across the UK
2025 ISDN End-of-life – BT is retiring traditional ISDN and PSTN Services
Up until September 2023, you can still place orders on these services but after that, no new orders will be taken
In 2025, BT will force a migration of these services
Businesses should plan ahead of time by adopting modern telephony solutions
In 2015, BT announced that they will be switching off the PSTN and ISDN in 2025, this announcement will mark the biggest change in the telecoms industry for over 30 years, but what does this mean for you? Let's discuss and cover any burning issues in order to help you prepare for the approaching deadline.
So what is the Public Switch Telephone Network (PSTN)?
The Public Switch Telephone Network (PSTN) allows calls to be made over copper telephone lines and fibre telephone lines using analogue signalling and is known as "traditional telephony". As broadband services have increased in reliability and quality over the past 10 years, the PSTN has evolved to support this change to an almost completely digital network using digital technology.
However, the Public Switch Telephone Network (PSTN) is ageing and getting more difficult to maintain, compounded with the increasing decline in the traditional fixed-analogue services, Openreach, a wholly owned subsidiary of BT, have made the decision to give priority to their fibre network, aiming to ensure higher availability by refocusing their resources. This means that a number of products which are often sold to businesses and consumers, often wrapped into line rental, broadband and/or call package deals will be impacted. These include: Wholesale Line Rental (WLR) and Integrated Services Digital Network (ISDN).
Integrated Services Digital Network (ISDN)
ISDN is available in two common variants: ISDN2 supports channels in pairs and you can have between 2 ISDN channels or 8 ISDN channels. ISDN30 is provided for larger business customers usually, with options to have between 8 ISDN channels and 30 ISDN channels on each service. A single ISDN channel will provide a customer with 1 concurrent call at a time.
What other lines and calls services are impacted by the 2025 closure?
Other connectivity products which will also be affected that by this decision are services like Asymmetrical Digital Subscriber Lines (ADSL) Broadband and Fibre To The Cabinet (FTTC) Broadband, which will be impacted the WLR End of Life project. This is because the underlying line product is being withdrawn, therefore there is no underlying WLR telephone service to support the broadband.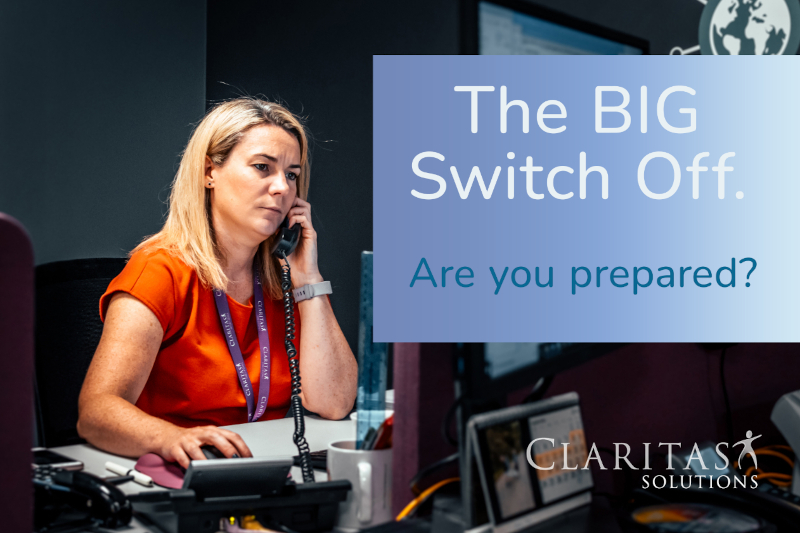 Why the change?
Openreach was created in 2006 following an agreement by the Office of Communications(Ofcom) and British Telecom (BT) to provide equal and fair access to the UK's telephony network. Their WLR (including ISDN) telephone products, allowed Communication Providers (CPs) to offer their own telephone service without having to maintain the network themselves at a fair, regulated price. On top of advancing technology, the way we work has also changed – with many organisations now adopting hybrid working, making the fixed desk phone obsolete.
People who have the option to work from other locations aside from the office need to be able to take their calls from other devices while they are working remotely – which is what can be done via VoIP (Voice over Internet Protocol) – which is set to become the default way that people and businesses communicate. This type of phone system allows you to take phone calls via the internet on a cloud network, rather than an on-premise landline phone.
How and when will Openreach start withdrawing service?
Openreach are adamant the December 2025 deadline is set in stone. However, the method to withdraw WLR and ISDN telephony products is still to be confirmed. Their strategy for UK wide withdrawal is still undefined in regards to if this will be at exchange level, geographical area or premise technology availability. However, from September 2023 Openreach will issue a full "Stop Sell" of new supply WLR, we are awaiting further clarification on what could be considered as a new supply.
The end of ISDN does not necessarily mean no more desk phones, but it does mean a shift to IP to cater for how we work and operate today. As we are all very aware, time has a habit of running away, so you will be surprised at how quickly 2025 comes around.
Why not have a chat with an expert today to see how we can help you to start thinking about your telephony situation and what the end of the conventional ISDN lines means for your organisation. Get in touch with our sales team today!
Email- sales@claritas-solutions.co.uk
Phone- 0330 333 88 33
Or complete the online contact form