The Claritas Castaways Make a Splash at Roundhay Park
Summary:
Each team competed in a minimum 3 races
Nail biting Tug of War
Fantastic day out for everyone
A mammoth event to organise
Over £100,000 raised for Martin House
The Day
Sunday 25th June saw our rowdy lot head to the Waterloo Lake, Roundhay Park to compete in the annual Dragon Boat Race for Martin House Children's Hospice! A total of 45 teams entered this year for the competition and were all ready and prepped to battle it out to become Dragon Boat Champions. Not only was there the battle on water but also the battle on land with a fierce Tug of War.
Each team competed in a minimum 3 races, once the heats were complete the average race scores were calculated and the top 8 teams went through the thrilling final!! In the nail-biting Tug of War, teams went head to head until two teams were left to claim victory. The Dragon Boat Race and Tug of War took place simultaneously, just one swift switch of a paddle for rope and jobs a good'un. It's fair to say the fella's arms were paying for it the days that followed…
Our Claritas Castaways sadly missed out on making it into the final of the Dragon Boat Race… but, the Tug of War was where they shone! Beating all other teams to come out on top and claim prize of Tug of War Champions! It was a fantastic day out for everyone, family and friends popped along to cheer the Castaways on and could enjoy a chilled drink and slice of pizza. All who attended expressed how much fun they had and look forward to doing it all over again NEXT YEAR!! We could not fault the organisation and preparation by Martin House, even with the threat of thunderstorms they had all bases covered. Martin House went above and beyond to make sure everything ran smoothly and everyone was entertained; fun fair rides, bouncy castle, games, music, food & drinks. A mammoth event to organise but presented with ease.
The Claritas Castaways raised an incredible £1,126, and an estimated further £770 in donations for Martin House Charity Shops. We couldn't be prouder of what they have achieved and contributed to this fantastic cause. At the end of the day this is what it's all about, to raise as much as we can to help those who need it most. This money is vital in helping Martin house continue their essential work caring and supporting children, young people and their families across West, North and East Yorkshire.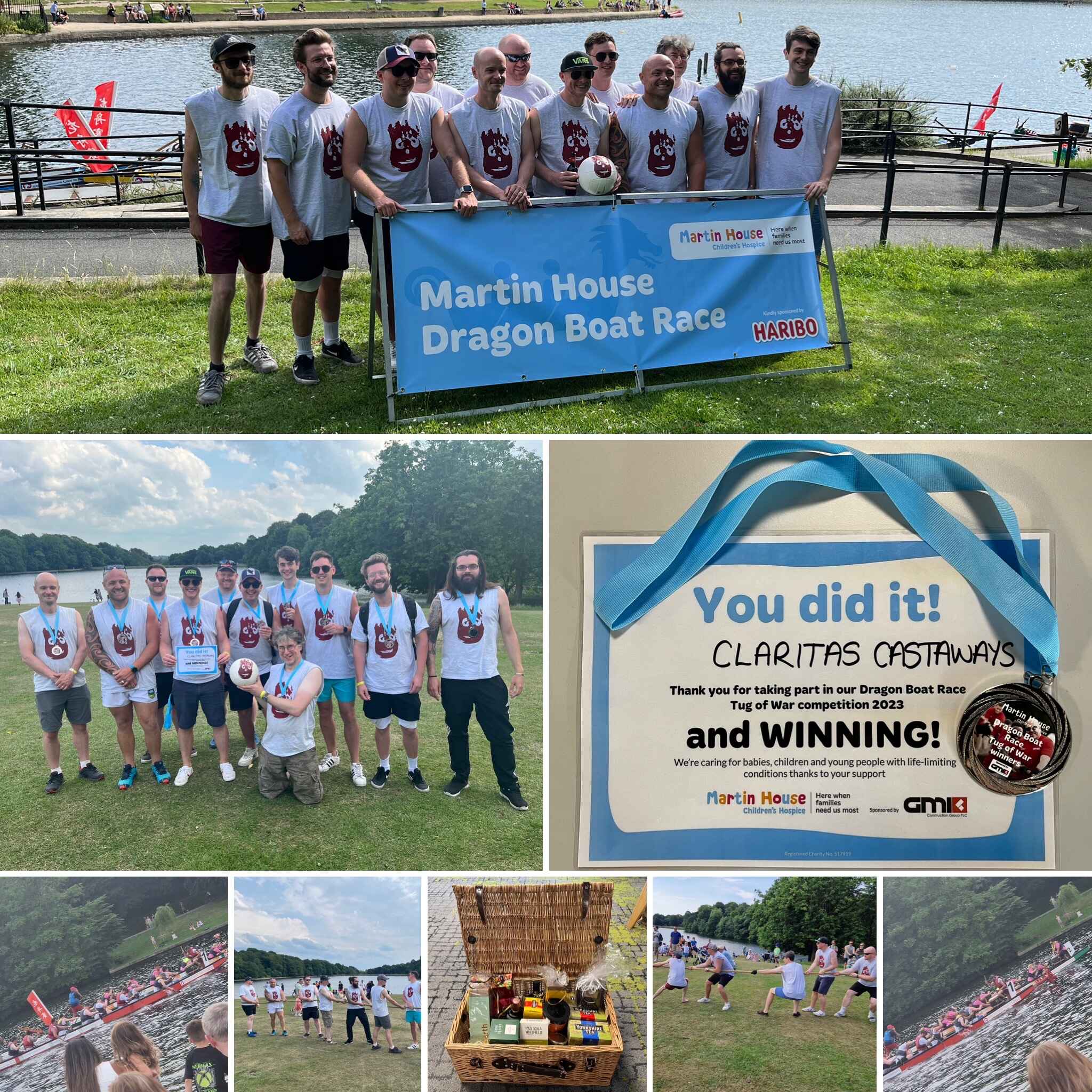 The Impact
The Martin House Dragon Boat Race event raised over £100,000 for the hospice. This is an overwhelming amount of money which will make a huge difference. To put it into perspective, this could pay for a Doctor for 9 months at Martin House whilst also enabling them to provide end of life care for a baby, child or young person. It would allow the family to spend those last few moments with their loved one, providing symptom control at end of life and care after death in one of their cooled bedrooms. The family will also have access to specialist bereavement support for up to two years after their child has died.
Our Fundraising Efforts
This is our first year supporting Martin House and has seen our staff get themselves stuck into all sorts of fundraising events… There's been the Martin House Strictly Get Dancing, Glitter Ball, Yorkshire 3 Peaks, Dragon Boat Race events as well as our own quiz nights, raffles & cakes sales. All of these efforts so far have raised £4,283 for Martin House. We couldn't be prouder of our team here at Claritas for all their hard work, dedication and contribution to help us reach this amount. We hope to raise £10,000 for the hospice over two years so this has put us in great stead to reach our target by the end of next year.
If you would like to donate and support us in our fundraising efforts for Martin House Children's Hospice please see our Just Giving page here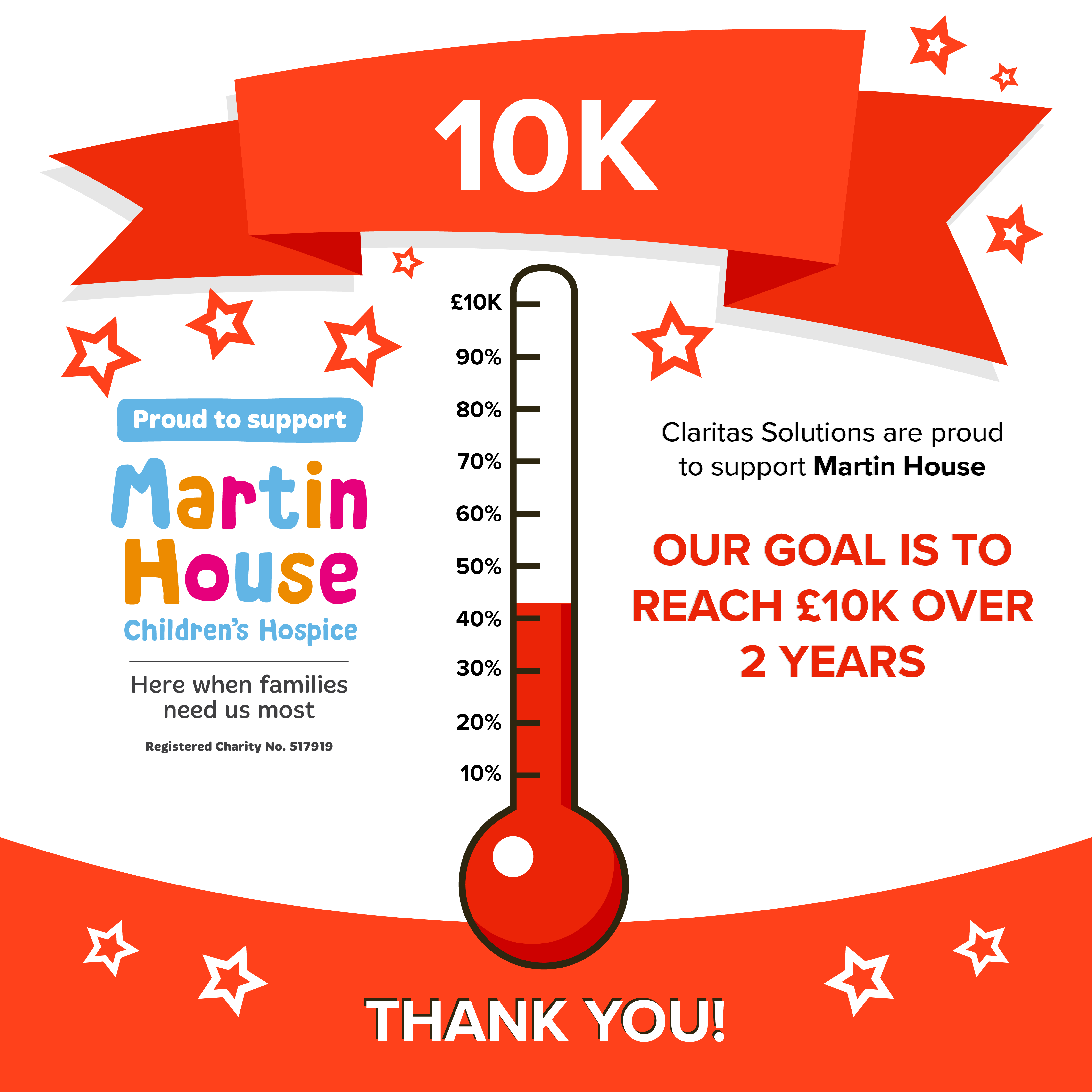 Keep Up To Date
Find all our charity news & updates on our website and through social channels. Check out our socials here ⬇