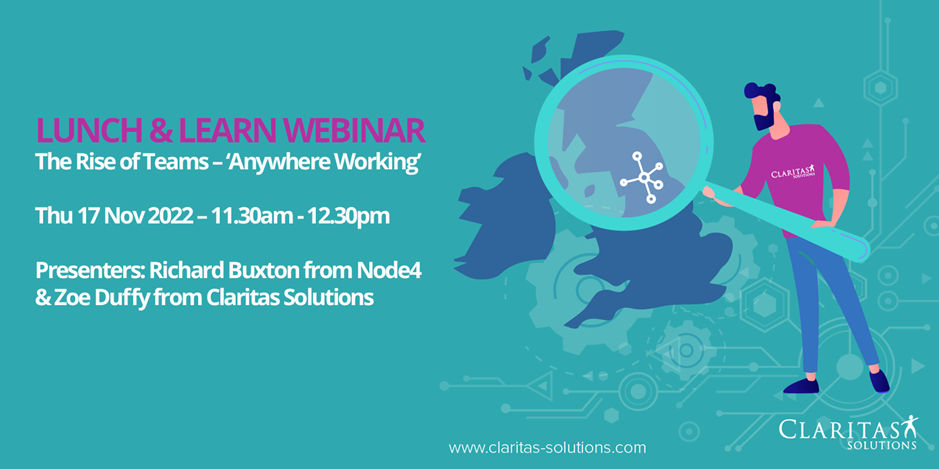 Summary
In this session we will cover and discuss:
The aftermath and permanent impacts in the post Covid working world
The rise of Microsoft Teams – 270 million users in 2022, up from 145 million reported in 2021 – how this is shaping the landscape & what the future holds
How to deliver a comprehensive, integrated strategy which addresses both security and experience in the permanently hybrid workplace
How to overcome anticipated challenges in your organisation when implementing hybrid working in 2022
The difference between 'must' and 'should'
The importance of a fluid and consistent environment to offer seamless collaboration & the benefits this brings
Get in touch with our sales team for more information.
Email- sales@claritas-solutions.com
Phone- 0330 333 88 33
Or complete the online contact form
Welcome to the latest Lunch & Learn in our webinar series.
In this webinar by Claritas Solutions & presented by Richard Buxton from Node4, we take a look at how hybrid working is now a permanent fixture of the working week.
As the safe return to the physical workplace in recent months has become the reality once again, businesses have experienced the many advantages of remote work. Leaders are now realising the significance in transitioning to how to deliver "work from anywhere" to optimise productivity.
Many believe it's impossible to implement effective security policies and simultaneously provide great experiences—and that's certainly true if you're relying on a collection of disconnected point solutions.
Listen in to learn more how the hybrid working landscape is becoming the norm and how to ensure security and end user experience are all aligned. Our special guest is Richard Buxton, Collaboration Practice Director at Node4. Richard Buxton has worked within the VoIP and Unified Comms industry for over 20 years. Starting out in the industry, he was responsible for adding IP telephony functionality to traditional PBX systems – years before the technology had been widely adopted. He then moved into the service provider sector and helped maintain and grow a SIP trunking platform and bringing anywhere working to the forefront.
Get in touch with our sales team for more information.
Email- sales@claritas-solutions.com
Phone- 0330 333 88 33
Or complete the online contact form